12th annual Rough Notes marketing agency of the year contest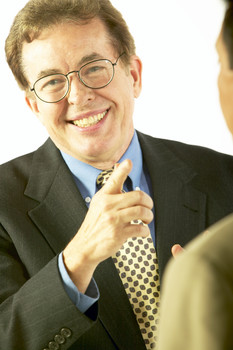 The Rough Notes Marketing Agency of the Year for 2000 will be chosen this month from the 11 agencies featured in last year's cover stories. The votes of Rough Notes magazine subscribers will determine the winner.
Ballots may be submitted by e-mail, toll-free fax or by mail, and are due by January 26. The paper ballot is on page 20 of this issue, and the e-mail ballot is prominently displayed at the Rough Notes Company Web site (www.roughnotes.com). The voter's name and zip code must appear on the ballot to verify results. Summaries of the 2000 cover stories appear on the following pages. More information on any of the "candidates" is available in last year's issues-either in the printed copies or by visiting the Web site and clicking on "back issues."
Representatives of the winning agency will be presented with their award at a dinner held in their honor in late February. The winner also will be featured in another Rough Notes story following the award presentation.
ISG International, Inc.
Cambridge, Maryland
Steven R. Robinson and G. Philip Feldman on the cover
Back in the information technology "Stone Age when offices ran DOS-- based applications on minicomputers with tiny hard drives and clock speeds to match, Phil Feldman, president and CEO of ISG International, saw that the future would be dominated by information technology. Since beginning in 1992 with an insurance program targeted to the National Association of Business Computer Consultants, the agency has expanded its offerings to address virtually all segments of the IT market. Unprecedented growth in this dynamic niche led to the creation of a brokerage division to support producers who provide coverage to IT clients that have risk profiles with which they are completely unfamiliar. Today, $20 million of ISG's total premium volume of $30 million is in the IT niche. "To be successful in marketing any niche product, you have to assume the mindset of your target market," says Steve Robinson, ISG's vice president of marketing. "That is why we have been so successful.
We have an information technology mindset in everything we do-from the way we market to the way we communicate with customers and agents."
MARCH
The McLaughlin Company
Washington, D.C.
Theodore M. Pappas on the cover
A simple twist of fate often has the power to change our destiny by pointing us in a direction we'd otherwise never have considered taking. That's just what happened to The McLaughlin Company's predecessor agency in 1934 when it was approached by the United Mine Workers to place the union's property and casualty insurance. The UMW chose Tongue, Brooks & Zimmerman because it believed the agency represented an insurer on whose board President Franklin Roosevelt was serving. When John McLaughlin told the officials that wasn't the case, they gave him the union's business anyway. From its headquarters in Washington, D.C., home to virtually every major labor union in the country, The McLaughlin Company devotes itself to meeting the unique coverage needs of this key segment of the American economy and has a well-earned reputation as a responsive problem solver. What's more, the agency itself is a "union shop": since 1989 the members of its non-management staff have belonged to the Communication Workers of America.
APRIL
NIA Group
Paramus, New Jersey
Roger Gross on the cover
"A department store with boutiques" may seem like a wildly inappropriate way to describe an independent agency, but it's exactly that analogy that today guides the growth of the NIA Group. "In the old days, independent agencies were department stores for insurance coverages. They offered everything," says chairman emeritus Paul Gross. "Today, you still need to be a department store, but you've got to have boutique departments as well." Among the offerings in NIA's boutiques are a national auto wholesale program, a program for shore properties, an equine mortality program and an elevator maintenance program that operates much like an HMO. As new competitors place increasing pressure on iIndependent agencies, NIA meets it head on by entering into joint ventures with banks, accounting firms and a dot.com company. This realistic, proactive mindset, combined with a focused acquisition strategy, has propelled the growth of NIA since it was established in 1926. From premium volume of just $23,000 in 1957, when Paul Gross took over the agency from his grandfather, NIA now boasts nearly $50 million in revenue, 550 employees, and 15 offices in four states.
MAY
Seattle Insurance Agency, Inc.
Seattle, Washington
Peter Beeson II, CIC, CPIA, with his father Peter Beeson on the cover
"We make house calls" summarizes the client-focused approach that the Seattle Insurance Agency, Inc., offers its clients. Formed five years ago to serve the needs of entrepreneurs, the agency specializes in construction and high-value personal lines, while at the same time being a generalist with a focus on small entrepreneurial enterprises. The Beesons leverage technology-laptop computers and celluar phones-to be sure people can reach them even when they're not in the office. The agency also creates custom CDs for clients-highlighting a home's special features and articles that should be scheduled. Another unique marketing technique which the Beesons use is to simulate a restaurant visit in which the client is presented a customized menu of coverages to consider and a "bill" reflecting the amount due in a restaurant-style billfold.
JUNE
Hunter Keilty Muntz & Beatty
Toronto, Ontario, Canada
Greg Belton, foreground, Robert Keilty (left rear), Brooke Hunter, and Neil Morrison on the cover
One of Canada's two largest independent brokers, Hunter Keilty Muntz & Beatty has 130 employees and writes $100 million in premiums of which 90% is commercial and 4% comes from life and benefits. Its success can be traced to its "solution" approach to each client's needs-an approach that emphasizes service and a holistic approach to risk. HKMB established a separate entity-Capital Solutions Corp.-to convert out-of-the-ordinary capital markets into revenue by using traditional insurance products in innovative ways. This enables HKMB to enhance existing client relationships by offering an insurance or financial guarantee as an option to the client's putting up its own capital for a business risk it wishes to avoid or mitigate. The brokerage also has a number of production groups that focus on a particular industry sector such as high-tech, life sciences, sports, entertainment and culture. And HKMB has a group that focuses exclusively on international insurance. Its international country database contains information on all the considerations relevant to a properly structured global insurance risk management program in order to provide seamless service in every major commercial center on six continents.
JULY
Seitlin & Company
Miami, Florida
Stephen Jackman on the cover
To Seitlin & Company, cross-selling is a function of problem solving. So, in addition to property/casualty insurance, which represents 70% of the agency's total revenues, the agency offers risk management consulting, alternative risk financing, credit enhancement, financial and estate planning, employee benefits, human resources outsourcing and surety bonding. Such diversification benefits the agency as well as its clients. During the recent soft market, the agency increased revenues from $9.7 million in 1995 to $15 million in 1999. Its HR outsourcing program assists clients with hiring, then helps develop and coach managers. A Seitlin HR professional is at the client's site each week. Seitlin also serves its internal customers-its employees-with Seitlin University, which handles the continuing education requirements for the staff. The director of Seitlin University offers its services to other agencies and companies as well, making the University into a profit center. The agency's ESOP makes it possible for employees to become owners. Outside the ESOP, there are a number of agents, key personnel and top associates who are owners-all part of the Seitlin perpetuation plan.