Marketing agency targets Central Coast vintners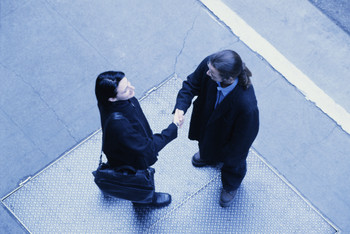 Terra Communications, Inc. is a new company that's taking a new tack in winery marketing. Conceived in 2001, the company was incorporated after a three-year gestation in July 2004, and now has offices in Santa Cruz and San Luis Obispo counties. The marketing and public relations company was formed specifically to work with the wineries of California's Central Coast, starting with the Santa Cruz Mountains and Paso Robles appellations and eventually, the Monterey and Santa Barbara AVAs.
Terra principals and founders Fred and Diana Gillaspy and Todd and Karen Bria are old friends, traveling companions and business associates who have lived and worked in the Central Coast region for decades. "We founded Terra with the primary goals of increasing trade, media and consumer awareness of the Central Coast wine producing region, and to build recognition of the people who grow the grapes and make the wines," Fred Gillaspy says.
"One of the first things we discovered when researching the wine business in the Central Coast was a real need for recognition and visibility," Gillaspy continues. "The Central Coast has thousands of planted acres of vines, and hundreds of wineries--yet the specific AVAs ... don't always get the credit they deserve."
Terra's motto, "Grounded Thinking for Growing Businesses," underscores the company's determination to build the region's reputation, working not just with individual wineries but also with area grower/winery associations. Since January, Terra has been actively working with the Paso Robles Vintners and Growers Association (PRVGA) and the Santa Cruz Mountains Winegrowers Association (SCMWA).
When PRVGA took its first national road show tour to New Orleans in March, Terra provided a series of photo murals of the Paso Robles wine country that brought a sense of place to the venue. The murals later traveled on to events in Chicago, Denver and Seattle.
Terra has recently arranged for the PRVGA to sponsor a trade and consumer tasting event in Saratoga, Calif., in the Santa Cruz Mountains region. Meanwhile, the SCMWA appointed Terra to enhance, market and promote its Santa Cruz Mountains Wine Club, one of the first appellation-specific wine clubs in California.
Gillaspy feels that the diversity of the Central Coast region makes the area unique. "Its different AVAs and their individual characteristics and micro-climates; the balanced, and sometimes not-so-balanced relationships between coastal and inland climates; the wide variations between day and night temperatures; the range of soils ... the effects of coastal fog and breezes.
"Combined with a richness of history and breathtaking scenery--from mountains to valleys to sheer ocean cliffs and sandy beaches--the Central Coast stands alone," he continues. "Terra's objective is to help make it abundantly clear that the Central Coast is in the wine."
To help project that message, Terra offers marketing packages for wineries at different stages of development: the Terra Prima[TM] covers the essentials of winery business marketing and PR basics "from roots to harvest," enabling start-ups to start out in the right direction.
Terra Avanti[TM] targets emerging established wineries, using proven channels of wine marketing and PR strategy tailored to each business's specific needs. Terra Voce[TM] provides a consistent voice for wineries at any growth level, including frequent interaction with trade and consumer media.
Components of the programs are available individually, as well as a full range of additional services. Terra's "Get the Dirt" is a professional marketing analysis program for Santa Cruz and Paso Robles vintners, and is available on a complimentary basis through June. It includes a checklist evaluation of current marketing and publicity programs and a list of strategic tools to maximize marketing communications investments. For more information, visit terracomm.biz.
NVG Elects Board
The Napa Valley Grapegrowers (NVG) elected a board of directors at a 30th anniversary dinner Apr. 8. Jason Kesner of Hudson Vineyards and Pete Richmond of Silverado Farming Company were elected to three-year terms. Mary Hall, Harlan Estate, and Jeff Roberts, Duckhorn Wine Company, were re-elected.